KOBE BRYANT'S BIOGRAPHY AND STATS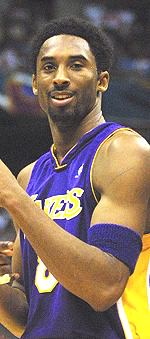 Kobe Bryant was born August 23rd, 1978, in Philadelphia, Pennsylvania. The son of famed NBA star Joe "Jellybean" Bryant (of 76ers, Clippers and Rockets fame), Kobe has two older sisters, Sharia and Shaya. If his given name sounds familiar, it may be because he was named after a type of steak, which was seen on a menu before his birth.

With the power to dunk, shoot and dribble in his genes, Bryant attended Lower Merion High School, after having spent a part of his childhood in Italy. While in high school, Bryant proved to be a star player on the courts, and earned enough honors and triumphs to make up for his lack of college basketball experience. Lead The Way The senior voted USA Today and Parade magazine's National High School Player of the Year not only led his team to Class AAAA state title, but he also broke records along the way. With an average of 30.8 points, 12 rebounds, 6.5 assists, 4.0 steals, 3.8 blocked shots per game, and a total of 2,883 points, Bryant became the leading scorer in Southeastern Pennsylvania history -- beating out previous records set by NBA great Wilt Chamberlain and Carlin Warley. A four-year starter, Bryant was recognized for his innate basketball skills by being named Naismith Player of the Year, Gatorade Circle of Champions High School Player of the Year, and became a McDonald's All-America Team member. Going straight from high school to professional basketball (the only Los Angeles player to have bypassed college), Bryant was picked 13th overall by the Charlotte Hornets, in the first round of the 1996 NBA draft. Decisive Trades The Hornets then traded Bryant to the Lakers, in exchange for center Vlade Divac. As the youngest NBA player to ever debut in the league at the time (at 18 years old), Bryant set a new record at the 1997 Rookie Game, with 31 points and 8 rebounds. Bryant also slam-dunked his way during the 1997 NBA All-Star Weekend, by winning the Slam Dunk Championship. During the 1998 All-Star Game, Bryant was voted a starter, making him another history-making player, as the youngest All-Star player in the NBA. During his third season, Bryant averaged almost 20 points per game, underscoring his reputation as one of the team's -- and even the league's -- most electrifying, all-around players. Honors And Rivals As an all-around player, Bryant was the only player of his team to start all 50 games of the 1998-1999 season. The LA Lakers may have won the 2000, 2001 and 2002 NBA Finals thanks to a team effort, but it's clear that Bryant stands in the tall shadows of the Lakers' star player, Shaq. Donning a #8 on his jersey, Bryant leads in almost every statistical category of his team, and it's more than likely that the Lakers' second star player will soon reach the top of his game, making history along the way. Unfortunately for Bryant, he is currently being accused of raping a 19-year-old hotel employee in Eagle, Colorado. Whether or not a trial will ensue is up in the air, as are Bryant's endorsements. One of his biggest sponsors, Coca-Cola, has decided to terminate its contract with Kobe. But his wife of two years, Vanessa Laine, is standing by his side despite his affair, as are his Laker teammates.
Want to meet new friends in your city or anywhere around the US? Check this out!





---