KOBE BRYANT'S ACCUSER VS. KOBE...
RELATED PICTURES
Courtesy of Kobe Times
Kobe Bryant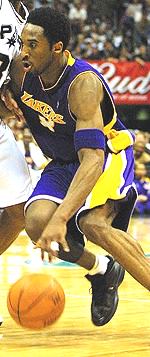 Kobe Bryant - The Accused
Joe Bryant - Kobe's Dad
Moved back East because he objected to Kobe's marriage to Vanessa.
Pam Bryant - Kobe's Mom
Did not attend Kobe and Vanessa's wedding.
Natalia Diamante Bryant - Kobe's Daughter
Vanessa Laine - Kobe's Wife
Said in a statement, " I know that my husband has made a mistake — the mistake of adultery.

He and I will have to deal with that within our marriage, and we will do so. He is not a criminal. I know that he did not commit a crime, he did not assault anyone.

He is a loving and kind husband and father. I believe in his innocence."
Sofia Laine - Vanessa's Mom
Said in divorce court documents, "Although I was happy for Vanessa, particularly since Kobe is a very kind and respectful young man, their relationship caused a great deal of stress for me"
Stephen Laine - Vanessa's Stepdad
Cheated on his wife of 12 years prompting a divorce.
Media & Reporters
Tom Leykis - Radio Talk Show Host
Broadcast the name of the alleged victim much to the dismay of major media outlets who did not want the name announced.
Michelle Hofland - MSNBC Television Reporter
Tony Kovaleski - Local Reporter
Implied the county had weak case against Kobe
Kobe's Friends (sort of)
Jameika Williams - Kobe's ExGirlfriend
John William Roche - Iowa dumbass arrested for threatening to kill Kate Faber
Colin Peters - High School Basketball Player
Plays basketball for the same Lower Merion High School Kobe is from
Patrick Graber - Swiss man arrested for soliciting the murder of Kate Faber
Agreed to perform the hit for $3Million
Regina Hendricks - Swiss hitman's live in ex-girlfriend
Threw Patrick out after he racked up a $1500 phone bill.
Bill Kelly - Bartender
Tends bar near Kobe's old highschool. Said, a fight broke out there over the charge against
Bryant.

Jeremy Lewis - Highschool Quarterback
Has aunt who thinks kobe is guilty
Defense Team
Pamela Mackey - Kobe's Defense Attorney
Hal Haddon - Another Defense Attorney
Witnesses
Terry O'Brien - Taxi Driver
Picked up Kobe and Kobe's bodyguards from the hosptial
Michael Ortiz - Kobe's Bodyguard
Paid the taxi driver
Raffi - Santa Monica Jewler
Sold Kobe's wife a $4Million dollar ring
Interested Parties
Mark Cuban - Dallas Mavericks Owner
Said the league can't help but benefit financially from the Kobe Bryant sexual assault case
Celeste Alleyne - Nike Spokesman
Nutello Chocolate Spread
Discontinued all promotions that involve Kobe Bryant
Non-Interested Parties
Rohn Robbins - Attorney for the newspapers
Said two 911 calls were made from Kate's house
Chis Beall - Attorney for the newspapers
David Lane - Attorney in Eagle County racial profiling case
Candace Trunzo - Globe Editor
Gave approval to publish photo of Kobe's alleged victim in the Globe magazine
Eagle People
Ethan Sahker - The I Need Tickets Guy
Held a sign supporting Kobe Bryant, in front of the media tents and the Eagle County Justice Center

Jennifer Warns - Bartender, Brush Creek Saloon
Julie Taylor - Eagle Pharmacy
Said a lot of the kids are mad. They're saying Kobe can no longer be compared to Michael Jordan.
Wayne Conrad - Carpenter
Charged CNN $1,700 to build a camera platform near the courthouse.
Cathy Kruzic - Spokeswoman for the Vail Cascade Resort & Spa
Said, their hotel is offering a special "media package", touting accommodations for satellite trucks and a special area especially for the media.
Vinny - The lost parakeet
Tim Cochrane - Director, Eagle Chamber of Commerce
Derek Fawcett - County Worker
Helped build a fence for media trucks
Tom Ehrenberg - County Worker
Helped build a fence for media trucks
Kate Faber
Katelyn Faber - The Alleged Victim
Mariah (Carey) - Kate's dog
Paul Faber - Kate's Dad
Kristine Faber - Kate's Mom
Town of Eagle Colorado
Friends, Classmates & Co-workers
Matt Herr - Ex-boyfriend
Kate reportedly tried to commit suicide after they broke up. Referring to the rape allegations, Matt says, "I don't think she would make it up,"
Blake Nall - Cordillera Resort Bellman
Confirmed tha Kobe Bryant was a guest in the Hotel

Bob Pietrack - Hotel Bellman
Was oine of the first people to see and speak with Kate after the alleged rape in Kobe's room.
Steve Evancho - Party Host
Claimed to NBC's Dateline, "She was bragging about the whole thing," the woman seemed "happy. She was having fun."
She even answered a question about the 6-foot-7 L.A. Lakers star's manhood, five people at the party told NBC.
"She answered with a gesture and a description," said NBC correspondent Michelle Hofland. "They couldn't believe it."
Katie Lovell - wrongly identified woman whose picture has spread around the Internet
Said, "I want to take my pictures off these Websites. You've got the wrong girl. I'd much rather be on TV."
Bob Matthews - Father of the wrongly identified woman whose picture has spread around the Internet
Beth Matthews - Mother of the wrongly identified woman whose picture has spread around the Internet
Said to ABC's Good Morning America, "I'm a helpless mother and my daughter is smeared all over the Internet"
Jesse Zatarain - Friend
Said, "it takes a lot of strength to come forward...I believe her."
Jessica Willenborg - Classmate
Said she has always been troubled about her ex-classmate's story. Painted "Kobe is Innocent" on the back of her Chevy Cavalier and put a Bryant action figure in the windshield.
Josh Putnam - Another Ex-boyfriend
Describes her as a showoff, "a total starve for attention,"
Casey Strickler - Friend
Appeared on the Toady show. Said, "Kobe went the whole way"
Sarah Lombardi - Friend
Says she has handled a flood of calls from the news media asking for interviews.
Sara Dabner - Sang in Choir with Kate
Said Kate Faber was like a big sister.
Luke Bray - Construction Worker, Friend of Kate
Said, "Visible evidence" of the alleged attack was still on the woman a week later. Bray said he did not want to be more specific but that the jurors' "jaws would hit the floor" when they saw the evidence
Lindsey McKinney - Former roomate, Friend,
Was offered $12,500 by the National Enquirer for her story
Told Orange couinty register that Kate overdosed on pills.
Starlene Bray - Luke Bray's Wife, Friend of Kate since second grade
Interviewed on Good Morning America and said, " Kate was emotionally fragile and sought medical help after a friends death and after she broke up with her boy friend."
Lauren McNeil - Friend
Described Kate as likeable
Micah Bernhardt - Classmate
Said, "You wouldn't think of her as someone who would make stuff up like this."
Delores Gomez - Friend
Likes Kobe but says victim is a good person
Janelle Medina - Classmate
Said internet photos of Kate are actually those of a different girl with a similar first name. Drives a car which reads, "Kobe is innocent" on the back window.
Crystal Thompson - Friend
Rachel Yandle - Friend
Said Kobe's press conference made her sick
Tyson Ivie - Friend, Works for Dominos Pizza
Told the Orange County Register that victim's suicide attempt was a big secret
Nicole Clements - Friend
Died in car accident
Brigitte Lowry - Friend
Kate's closest friend
Rich Fredrick - Friend, Lived in same UNC dorm as Kate
Said, "Kate was very nice and someone that would be there for you"
Prosecution
Fred Gannet - Judge
Judge Gannett was appointed Eagle County Judge in September, 2002. Prior to his appointment, Judge Gannett served as a Pitkin County sheriff's deputy. He earned his juris doctorate from Willamette University in Salem, Oregon. In addition to his private practice, Judge Gannett served as a municipal judge for the town of Basalt and as an assistant municipal judge for the town of Vail.

Judge Gannett hears civil cases up to $15,000, as well as traffic, restraining order, small claims and misdemeanor cases. He also handles felony cases through the preliminary hearing stage.

Russell Granger - Judge
Joe Hoy - Arresting Sherrif
Mark Hurlbert - District Attorney
Greg Crittenden - Eagle County Duputy DA
Ingrid Bakke - Boulder Deputy District Attorney
A veteran of sexual-assault cases.
Doug Winters - Sheriff Detective
Released Bryant after bail was paid
Kim Andree - Sherrif Department Spokesman
Gary Ward - Acting Eagle police chief
Krista Flannigan - DA spokesman
Asked victim friends to stop speaking to the media
Jackie Cooper - Eagle County Court Clerk
Other Contacts
Terry Urista - University Police Office
Said, Kate was taken into custody on Feb. 25 and transported her to the hospital.